About Us - Moore Associates Security Systems
Our company was founded on the belief that any service or product offered should fulfill a promise of both quality and reliability.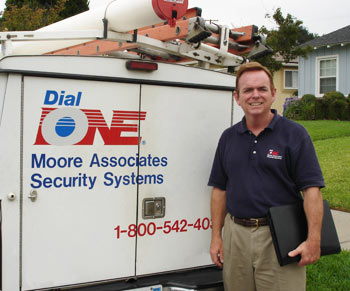 When my father and I first started Dial One® Moore Associates in 1975, our alarm systems were completely homemade. My passion and skill base working with technology led me to constructing my own
alarm system devices,
which my father and I saw as a vital component to ensuring the
safety
of any family. Strongly believing in our products and services, we expanded our business and began installing our systems into the residences of family and friends.
The quality of both our installations and alarm systems caused our services to grow in popularity and as a result our company expanded.
What began as small endeavor between father and son grew into a full fledged business that has ensured the safety of thousands of home and business owners. Dial One® Moore Associates continues to be family own and family operated with a strong commitment to quality and customer satisfaction that has not wavered over our past 38 years in business.
Our monitoring center is located in Cypress, California and our service area extends from Rancho Cucamonga into Riverside County; Corona down to the Orange County and over to Los Angeles County into Pasadena.
We are a 24/7 monitoring service -- available by appointment after hours.
State alarm license ACO 6358